« February 2009 | Main | April 2009 »
Tuesday, 31 March 2009
The night before the Dress Camp show by Marjan Pejoski
Dear Shaded Viewers,
I already told you that I was not able to attend Marjan Pejoski's second collection for Dress Camp, we were both disappointed but I did make it for the looks the night before.
12:44 AM | Permalink | Comments (1) | TrackBack
Vivienne Westwood photos by Sonny Vandevelde
Dear Shaded Viewers,
12:00 AM | Permalink | Comments (0) | TrackBack
Monday, 30 March 2009
NORDIC FASHION BIENNALE IN REYKJAVIK BY SHOJI FUJII : FASHION FIESTA
Dear Shaded Viewers
Fashion fiesta was the main fashion event of Nordic Fashion Biennale at Nordic house yesterday.
7 icelandic designers presented 2 looks walking in 3 groups and went to basement for a concert of icelandic band ' Báruján '.
Designers : GuSt, HANNA, Sonja Bent, Farmers Market, Naked Ape, Rósa Design, skaparinn, THELMA, ásta, créative clothes, Aftur, Andersen & Lauth, BIRNA, E-label, NIKITA, Mundi, Spaksmannsspjarir.
E-label(2 of left), GuSt
Naked Ape
Gisli(chef) and Andera
Bjarni Einarsson, Anna Clausen, Oli Breidfjord, Andrea Maack, Gisli Sverrisson
shoji
11:09 PM | Permalink | Comments (0) | TrackBack
A little taste of Tokyo comes home
Dear Shaded Viewers,
On my last day in Tokyo my friend Akiko bought me this funny little headband, she thought a few lanterns and cherry blossoms would make for the perfect hair accessory. I cannot really get it to stay on my head but it works fine with my little man.
Later,
Diane
11:04 PM | Permalink | Comments (0) | TrackBack
Cassette Playa Press Day - April 1 & 2
10:29 PM | Permalink | Comments (0) | TrackBack
Maria Videl reports on: Valerie Steele and her conference in Mexico city and her Gothic Dark Glamour exhibition.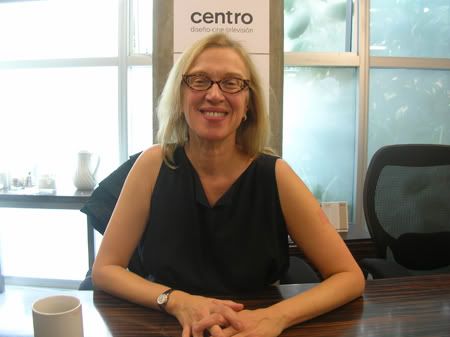 Valerie Steele is the Director and Chief Curator of The Museum at the Fashion Institute of Technology, New York City. 
Dear Shaded Viewers,
Last week, Valerie Steele came to Mexico city to inagurate her favorite exhibition so far: Gothic, dark glamour. She gave a conference explaining why she chose gothic as a topic. I got the chance to talk to her for a little while, and i will never forget one quote she said: "Fashion is something that helps to create a persona, that persona is a mask, but not a mask that lies necessarily".
Some of the images on view::
Alexander Mc Queen, 2001.
John Galliano ( some of his inspiration came  from el dia de muertos, the mexican celebration to death)
Givenchy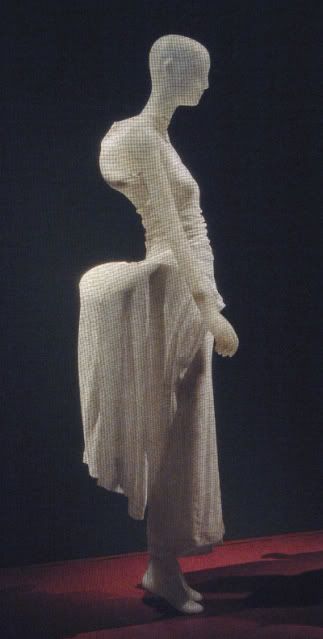 Comme des Garcons, spring 1997.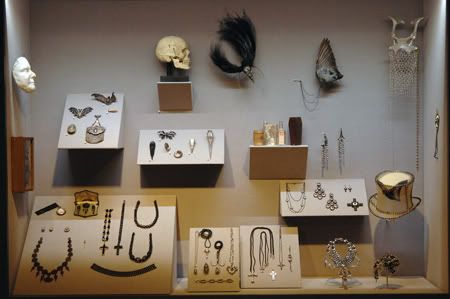 the cabinet of curiosities.
Interested? Go to Centro de diseño, cine y televisión. Sierra Mojada 415, lomas de chapultepec, Mexico city.
Later,
MV
09:46 PM | Permalink | Comments (0) | TrackBack
Looks, the night before Marjan Pejoski's Dress Camp show
The night before Marjan presented his DressCamp collection Akiko and I passed by so that I could get a preview. My return flight to Paris was the same time as his show. Akiko Hamaoka took the videos while I took the stills, will post them later.
More later,
Diane
08:26 PM | Permalink | Comments (1) | TrackBack
DRESSCAMP by Marjan Pejoski
Dear Shaded Viewers,
As promised here is a finale shot from today's DRESSCAMP show. All of my photos were too blur so please wait for diane's preview from yesterday...
Later,
akiko.
05:27 PM | Permalink | Comments (0) | TrackBack
Lakme Fashion Week - Anand Kabra
Anand Kabra is one of India' s most talented young designers - I see him as part of the next generation of talent which has one foot firmly planted in the global stream, and another set in India, with an understanding of how the country's aesthetic has evolved from past to present, and an investment in shaping where it goes in the future. Past seasons have seen Kabra experimenting with hand-painting and delicate prints on architecturally-draped silk dresses and separates that have an effortless minimalist form and show restraint in embellishment. 
This season he shifted in a different direction, creating a more 'global' collection that had less of an overt Indian connection - you could see the influence of McQueen in the aggressive lines, strong shoulders and cracked mirror embroidery, but Kabra made the inspiration his own, incorporating his signature draping, and translating the mirrored effects in hybrid saris that blazed in the runway lights.
Kabra is one of the few Indian designers who has his eyes set firmly on an international audience, and the buzz following his show was strong - international buyers were eager to snap up his work, especially given the crisis. Indian designers' lower price points and elaborate hand work are one strategy that might lure shoppers back into stores - economics aside, the beauty of Kabra's work might be able to do the trick all on its own.
01:45 PM | Permalink | Comments (0) | TrackBack
Lakme Fashion Week - Little Shilpa
Bombay is one of my favorite places on Earth, and fashion week here is a chance for me to reconnect with the people who I befriended when I lived here for a year - it's also a chance to see the future of Indian fashion. Sometimes I get the feeling that most people think that Indian fashion begins and ends with a powder blue pashmina and Mughal-inspired chandelier earrings, but in fact, there's a wealth of designers who are expanding the definitions of Indian design to encompass ideas that one might never expect to encounter on the Subcontinent. Little Shilpa is at the forefront of this movement - the Philip Treacy of India, her hats, headpieces and sculptural jewelry assemblages are a madcap mix of East, West and everything in between, defying conventional categories. Like McQueen, this season she showed a full-on fashion tour de force that, in her case, delved into both India's complicated colonial history and the world's current dark moment of the soul, which took form in World War II-inspired pieces. Shilpa sells around the world; her website is www.littleshilpa.com. Check it out.

01:29 PM | Permalink | Comments (0) | TrackBack