« August 2011 | Main | October 2011 »
Friday, 30 September 2011
Marco de Rivera reports on Nuit Blanche 2011 Paris
07:54 AM | Permalink | Comments (0) | TrackBack
Sonny Vandevelde backstage at Rue du Mail SS 12

All photos by Sonny Vandevelde
07:40 AM | Permalink | Comments (0) | TrackBack
Sonny Vandevelde backstage at Damir Doma SS 12

All photos by Sonny Vandevelde
07:32 AM | Permalink | Comments (0) | TrackBack
Rick Owens S/S 12 finale
01:42 AM | Permalink | Comments (0) | TrackBack
hui-hui spring 2012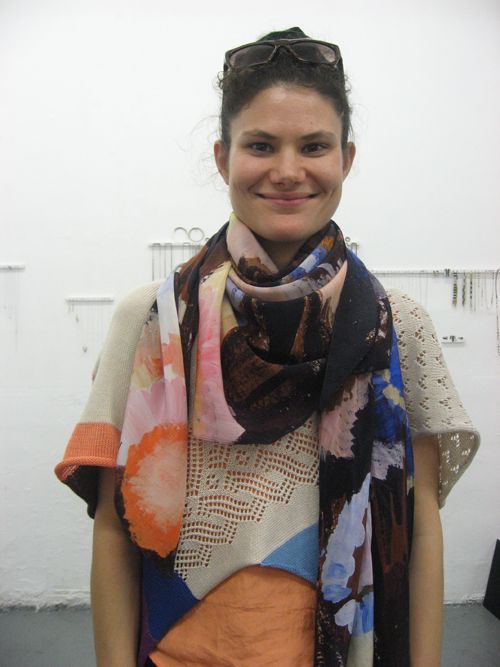 Designer Katharina Trudzinski, part of the hui-hui trio with her sister Johanna and Anne Schwätzler, wears a knitted tee and scarf from the collection.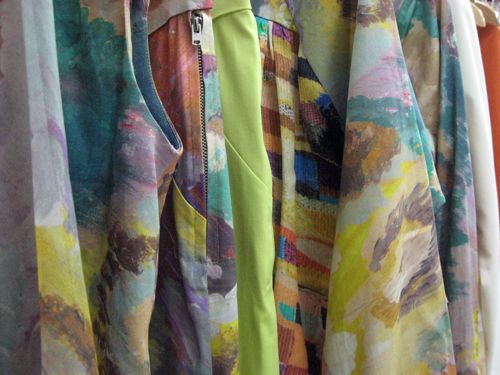 Dear Shaded Viewers and Diane,
Hui-hui's "Minimal Pair" collection for spring was based on Memory. And I do not mean that useful skill that allows you to remember the name of that person who's coming by to shake your hand, not really. I'm talking about that old-fashioned board game whose aim was to pair up couples of twin squarely shaped images, finding for each one of them the perfect match out of a sea of cardboards hiding their faces. If you close your eyes and try to remember were the right one lays, you'll feel even now the sweet taste of summer boredom, back when the afternoons were still stretching into nights, nothing was happening, and all our concentration could be employed in trying to memorize. Before the rush, before technology, before all worries; an old repetitive game, that grew longer as its players grew tired, but still carried that bit of a challenge that kept anyone from giving up. The colors of hui-hui's collection are the nostalgic, retro ones of a time long gone, but somehow also the cheerful, well-known shades of children toys and drawings. The prints manage to be geometric without being digitalized, but drawn with watercolors, or taken from embroidered squares. The theme of the mirror followed the Memory one: that gave birth to pieces like the twin-collared t-shirt, and all those cuts that evoke playfulness without being childish, and look as comfortable as nightwear, but at the same time retain that refined, mild translucence, that rich delicacy, that would remind a girl she's wearing an art-piece.
Later,
Silvia
12:56 AM | Permalink | Comments (0) | TrackBack
SERVOMUTO EXHIBITION AT GALLERIA ANNA MARIA CONSADORI, TEXT AND PHOTOS BY STEFANIA SEONI
 Alessandro Poli and Francesca De Giorgi aka SERVOMUTO
The artist and illustrator Cedric Virassamy
 I love every piece by SERVOMUTO, especially the pieces with Fortuny fabrics

Dear Diane , dear shaded viewers,
SERVOMUTO collaborated with the artist and illustrator Cedric Virassamy at the Galleria Consadori and the exhibition will last 5 days, it is a journey between design and contemporary art..
12:00 AM | Permalink | Comments (0) | TrackBack
Thursday, 29 September 2011
Close-Up on the 'Diane' by Miguel Villalobos
11:50 PM | Permalink | Comments (1) | TrackBack
Waiting for Rick Owens to start


Catherine Baba photo by Jason Last
Outside Rick Owens....let's hope Sonny was backstage...

With my ex-driver from Milan...now working at Rick Owens...
11:47 PM | Permalink | Comments (0) | TrackBack
A Visit to 1-100 Fine Jewelry by Graham Tabor/Miguel Villalobos Sept 29 - Oct 6th

Contact AKIKO HAMAOKA 33-1-47-03-4913
www.one-onehundred.com by appointment only
11:15 PM | Permalink | Comments (0) | TrackBack
Ann Demeulemeester S/S 2012
11:09 PM | Permalink | Comments (0) | TrackBack